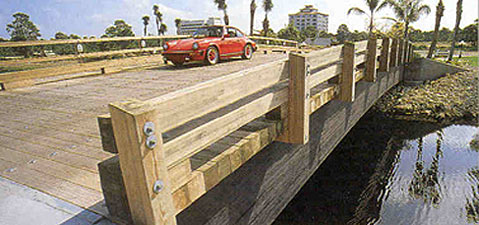 VEHICULAR TIMBER BRIDGES
EnWood Structures' Vehicular Timber Bridges offer a viable alternative to steel and concrete structures. EnWood's vehicular bridges are pre-fabricated prior to shipment, thus facilitate ease of installation. These laminated wood bridges require minimal maintenance, have an extended service life, and offer an aesthetic harmony only found with a timber bridge.
Standard design configurations for HS20 loading with spans ranging from 16' to 80' are available for single and multi-lane bridges. Larger spans are possible with truss or deck arch bridge designs.
Longitudinal glulam deck designs offer low profile structures which are typically used for short spans from 16' to 32' where clearance below deck is limited. Designs consist of deck panels spanning from abutment to abutment. Glulam stiffener beams are used to tie panels together and to distribute wheel loads.
Stringer & Transverse deck systems utilize a series of transverse glulam deck panels or solid sawn timbers supported by straight or slightly curved stringers. Glulam diaphragms are used for bracing. This system is most economical for clear spans ranging from 20' to 80'.
Designs are in accordance with AASHTO specifications.
EnWood's bridge team is steeped with expertise and will assist you with technical advice and assist in writing the specifications specifically tailored to your project requirements. In this industry, experience is paramount!
Why an ENWOOD STRUCTURES' Vehicular Bridge?
Aesthetic, creative, and innovative design capabilities
Excellent impact load characteristics
High resistance to deicing chemicals
On-site assembly efficient and cost effective
Full design and engineering assistance by registered and experienced engineers
Over 60 years of experience in manufacturing and designing bridges
Designs specifications, AASHTO
AITC seal
Bridge Specification Sheet (PDF)