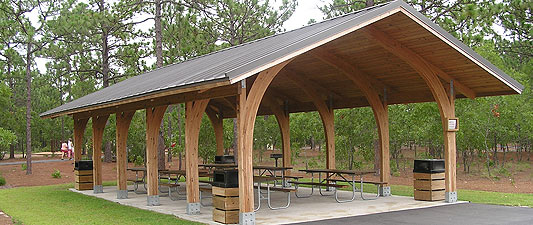 THE WILMINGTON
THE WILMINGTON, with its open knee arch design, showcases the quality and craftsmanship of this laminated wood pavilion. The glulam arches are pressure treated and surface mounted, and hot dipped galvanized. The gable design of the Wilmington features arches 8' on center in the length direction, and an eave height of 10'. The roof pitch is a distinctive 5:12, and standard widths are to 40'. Custom sizing is available upon request. Options for customizing the Wilmington shelter include: metal roof, powder coated hardware and mounting shoes, staining, cupolas.
Popular available options include: metal roof, staining, cupolas.
Specification Sheet (PDF)
|
Photo Gallery
SHELTER SIZE
The size of the Wilmington shelter is expressed by the width and the length of the roof area. For example, a 30' x 44' Wilmington shelter is 30' wide and 44' long. The pressure treated laminated wood arches are spaced at 8' intervals in the length direction of the shelter. In the example referred to, there would be six sets of arches spaced 8 feet on center. The roof decking would extend past the arches two feet at each end of the shelter. In the width direction, the roof would extend past the center-line of the arches 2' 0.
THE WILMINGTON PACKAGE COMPONENTS
ARCHES:
Pressure treated, prior to gluing, laminated wood arches designed to be surface mounted in concrete for stability. The lumber for the arches is treated prior to gluing which affords full penetration of the core.
BASE SHOES:
Galvanized steel base shoes custom fabricated for securing the base of the surface mounted arches to the concrete foundation.
RIDGE BEAM:
The ridge beam is engineered and sized in combination with the size of the shelter and the shelter's arches for the required structural support.
Roof Deck:
2x6 or 2x8 (nominal sizes) #1 grade Southern Yellow Pine wood decking, tongue and groove and end-matched, is nailed to the top of the beams. Galvanized nails to attach the deck to the beams.
Fascia Boards:
2x6 pressure treated, #1 grade Southern Yellow Pine, fascia board to be attached at the eaves and gables. Galvanized nails to attach the fascia to the beam ends and the deck.
FELT & SHINGLES:
One layer of #30 roofing felt to be applied on top of the wood deck. 25 yr. 3-Tab fiberglass shingles, standard color Autumn Brown, other color options.