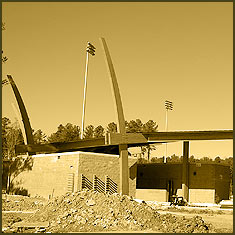 THE CRAFTSMANSHIP OF CUSTOM ARCHITECTURAL glulam BEAMS
EnWood Structures' Architectural Beam division brings to fruition the creativity master designers and architects put to paper. With decades in the laminating industry, EnWood has the expertise for complex and challenging projects. Professionals in the design industry rely on EnWood Structures' knowledge of wood and timber, and know, that if it can be manufactured, EnWood can do the job, and do it well. When reputations are at stake, and the challenge is set, professionals team with EnWood Structures.
Architectural beam projects include venues both large and small, and both private and commercial. Churches, stadiums, restaurants, country clubs, private homes, even boat houses are among a long client list. EnWood's manufacturing facility and steel fabricating shop are sized to handle architectural projects of all sizes and complexity.